Our Unique Process
Since your home is all about you, the process should be, too.
Building your home is one of the most important things you'll ever do for your family, which is why we've designed our process to feel just right to you.
Transparent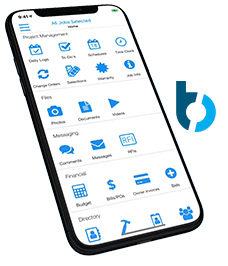 Online Project Management
Every Sullivan Homes employee, affiliate, subcontractor, materials distributor and construction manager are all connected with you on your own project website, accessible 24/7. So even if you don't live near St. George, you will always know how your home is progressing and who is involved. You'll have transparent access to your dedicated:
Sales Coordinator

Design Selections Coordinator

On-site Construction Superintendent

In-house Financing Coordinator
You can also connect with all of them via our Buildertrend App. Buildertrend is another online tool that lets you personalize your home with the options and design choices you love. You'll be able to see updates and photos during the construction process, and easily report any warranty issues that may arise, right from the app.
Learn More about Buildertrend
On Site Project Management
When you're building a home, our responsiveness and timely communication can make all the difference. You'll form a relationship with one senior level construction superintendent you can trust. Your superintendent is on-site to oversee the construction of your home, as well as every subcontractor who works on the day-to-day details. Your superintendent knows your home inside and out, and is available to you even 7 days per week.
Tailored
Designing Your Home
Bring us your vision, and we'll help you bring it to life in our design studio and showroom. Together, our design experts will guide you through the fun and highly personal process of designing your home.
Architectural Design Studio and Central Design Center

Dedicated on-site superintendent

Trade partner off-site Design Centers & showrooms

Community-specific model homes including a catalog of hundreds of personalization options unique to your community
Thorough
2-Step Homeowner Orientation
Before moving into your home, we'll bring together your entire project team, including the Design Selections Coordinator, the Construction Superintendent, and a member of management. We'll walk through your home together with a fifteen page, 360-item checklist.
A week later, we will tour your home together again to review any refining touch-ups we may have identified during our first tour. This 2-step orientation ensures that the quality and design of your home feel right to you.
Customer Care & Warranty
Every Sullivan Homes customer is provided with access to our Customer Care & Warranty tool to ensure that any future warranty work is noted and corrected. We also survey all buyers after they have moved into their new homes, using their feedback to guide future design modifications and option offerings.